Microchip
Microchip Technology Inc. is a leading provider of microcontroller and analog semiconductors, providing low-risk product development, lower total system cost and faster time to market for thousands of diverse customer applications worldwide. Headquartered in Chandler, Arizona, Microchip offers outstanding technical support along with dependable delivery and quality.
MPLAB® Xpress Cloud-based Integrated Development Environment (IDE)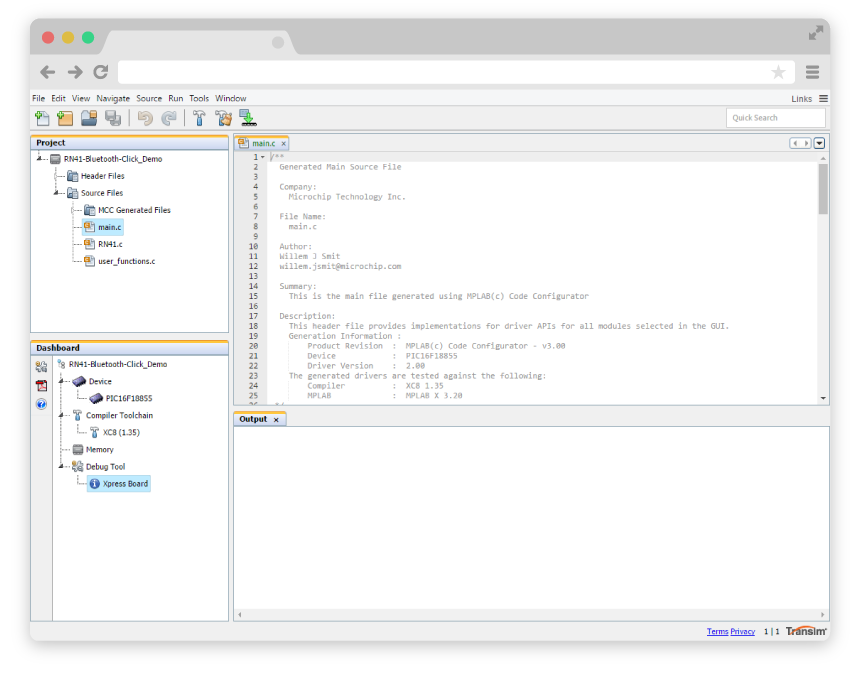 "While it's always been easy to develop with PIC MCUs using the free MPLAB® X IDE, the Web-based MPLAB® Xpress reduces the installation time to zero while enabling users to build an entire application within minutes," said Derek Carlson, Microchip's vice president of Development Tools. "Users can open a browser, quickly generate code via the integrated MPLAB® code configurator which integrates with MPLAB® Xpress -- a feature not available with any other cloud-based IDE -- test that code with the included simulator, compile the code, then program and debug their target MCU."

See More
MPLAB® Xpress also incorporates the latest version of MPLAB Code Configurator, which enables users to automatically generate initialization and application C code for 8-bit Microcontrollers using a graphical interface and pin map.
MPLAB® Xpress Cloud-based Integrated Development Environment (IDE)
Microchip's MPLAB® Xpress IDE is a flexible and portable web-based programming environment for instant development for users on the go. Transim built this online tool with the same look and feel of the award-winning MPLAB® X IDE, bringing the most popular features to any internet-connected PC or Mac, anywhere in the world. This simplified and refined application allows users an easy way to get started in just minutes. This can be done within a browser anywhere in the world, with no software installations, no machine configuration, and no hardware necessary.
MPLAB® Xpress offers the industry's most comprehensive feature set:
A library of Microchip-validated code examples

Interface to ® Code Configurator (MCC) 3.0 for GUI-based MCU peripheral setup and automatic code generation

Integration of Microchip's most recent XC8 compilers with Pro evaluation

Integrated Simulator-No hardware necessary!

Support for existing programmer/debugger tools with USB interface

10 GB of secure online storage with a myMicrochip account.
Users can begin with a library of existing projects, compile code, program a board, and collaborate with the community to share ideas, knowledge, code and inspiration. With massive storage, users are able to store projects in the cloud for ease of access. Users who have an existing myMicrochip login may use their credentials to save projects. All projects can also be migrated to the full downloadable MPLAB® X IDE for further development.